The first setup for Google Hotel must be made on your WordPress or Joomla website with our plugin Vik Channel Manager. There's no need to do anything from your Google Business Account, but you do need to have one, and your property must be eligible for the Google Travel platform and their Free Booking Links.
To make sure your property is eligible, just do a quick search of your hotel/property name on Google, and if you see a blue button "CHECK AVAILABILITY" in the search results, maybe with some OTA prices in the Ads section, then it means you are eligible!
When Google Hotel is your active channel in Vik Channel Manager, you should open the page Hotel - Details to submit your hotel information (see screen shot below).

This is a crucial operation because the information you enter will be transmitted to Google, which will attempt to match your hotel details on Google Maps. This means that the geographical information, the city, street address, country and hotel name you specify must match in accordance with your Google Business Account details.
Do not forget to provide all the required information, including your Latitude and Longitude coordinates. If you are using the Google Maps APIs in Vik Booking, then Vik Channel Manager will help you find your hotel exact location and coordinates with the ease of a draggable map. Otherwise, you can always search for your property on Google Maps and by right-clicking the map-marker, you can get the exact coordinated.
Please notice that latitude and longitude coordinates are decimal numbers, do not confuse them with "directions" that can include degrees and cardinal points like N (North), S (South), E (East), W (West). Coordinates are just numbers like 48.123456, and that's what you want to enter for your hotel details.
See the screen shot below for more information: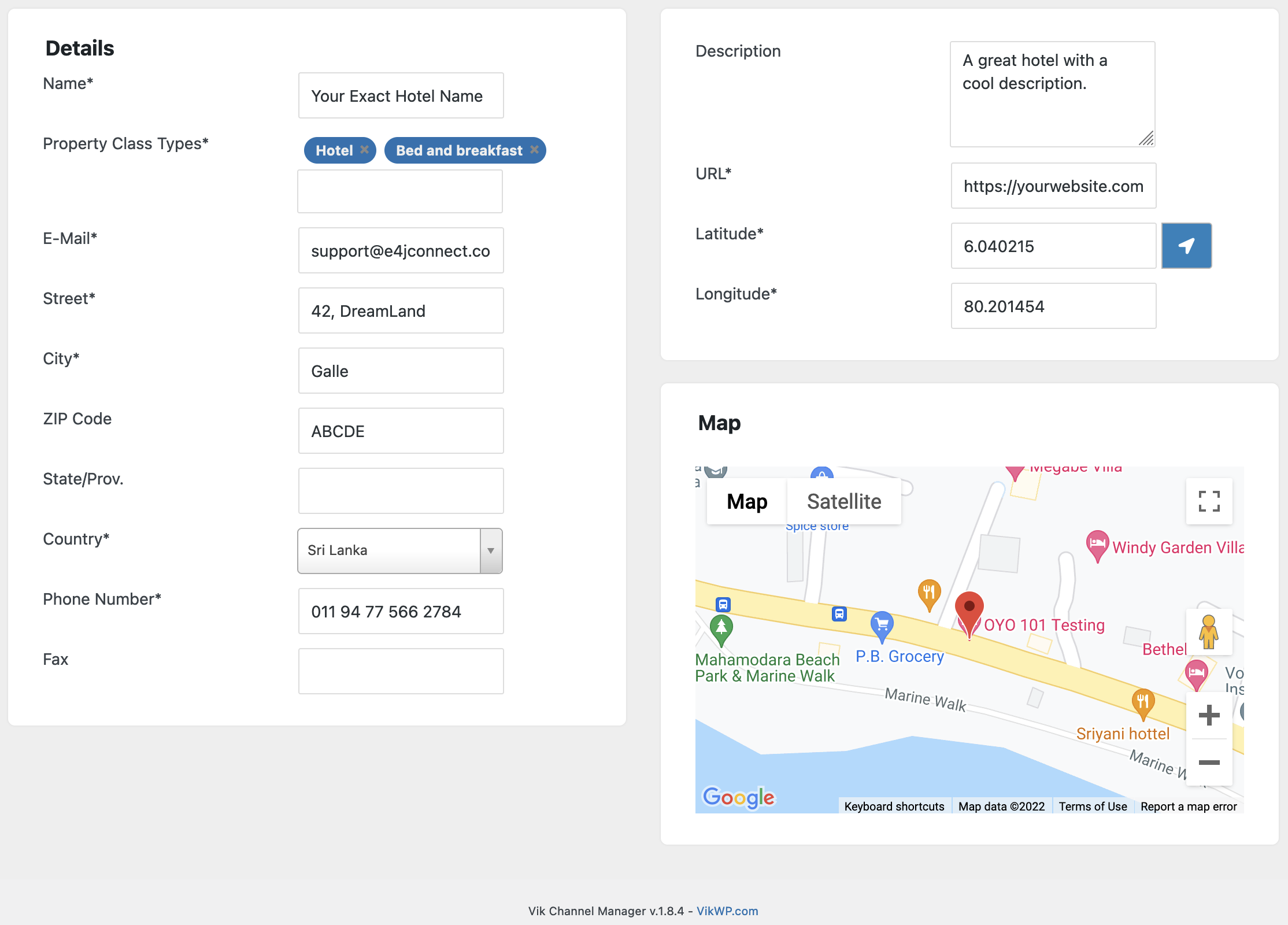 Once you are sure all the details are correct, hit the Save button and wait for the confirmation. At this point, your hotel details will be listed on the E4jConnect Hotels Inventory, which is periodically imported by Google.
You can monitor the status of the hotel-details-import process from the page Dashboard of Vik Channel Manager, where your scorecard will be updated from time to time.
For those hotels who have been using the Channel Manager for some time already before activating Google Hotel, their hotel details may be already present in our feed connected with Google. In this case, please make sure your hotel details contain all the necessary information, and that you were assigned a Hotel ID from the page Settings in Vik Channel Manager as illustrated below. Click the Save button to confirm your ID.

After 72 business hours from having submitted your hotel details, open the page Dashboard in Vik Channel Manager and wait for your Google Hotel scorecard to be loaded (as illustrated below). Once you see the "On Feed" and "Matched on Maps" boxes enabled, you can go ahead with the configuration.

The actual configuration process starts now
Just like any other full-API channel like Booking.com, Airbnb or Expedia, Google Hotel expects you to transmit your rooms mapping information as well as the Bulk Actions. If you don't know what these functions are, please continue with the reading.
From the page Hotel - Synchronize Rooms in Vik Channel Manager, hit the blue button to read your rooms information. By default, the system will select all room-types to be transmitted to Google. In case you want to omit some, use the apposite red button, but this is not recommended.
Hit the Save button and wait for the confirmation message that will show you the rooms mapped with Google as illustrated below:

You can find them under the menu Bookings - Bulk Actions. The first bulk action is called "Copy Availability", and as the name suggests, this will read the availability of your rooms from your website to transmit to Google the same exact information for any dates of the year.
Once you're done with the availability, open the page Bookings - Bulk Actions - Rates Upload to pass to Google Hotel your pricing information for the various rooms.
In case you are used to increase your website rates for some channels, make sure the Bulk Action - Rates Upload interface looks like the following example for what concerns the channel Google Hotel, meaning that this channel will never have an increase of prices (+0%). It is up to you to choose whether the prices for any other channels should be increased or not, but it would be counter-productive to transmit to Google a false information about your website rates.

Once all looks good, go ahead and submit the pricing information with this Bulk Action.
That's all! Your official website rates will start appearing on the Google search results as well as on the Google Travel platform.
Do not forget to make sure your website with Vik Booking looks appealing enough for travelers to be able to complete their reservations on your site!
Do you manage multiple hotels from the same website?
If you are using an updated version of Vik Channel Manager, then this may not be a problem.

However, for each hotel/property you manage, you need to have a separate Google Business Account. For example, if you run a hotel chain, you need to have a Google Business Account for the "Hotel A", one for the "Hotel B", and another for the "Hotel C". As long as there is a separate/individual Google Business Account, you will be able to use the multi-account feature for Google Hotel.
Just remember that one hotel/property per time can be configured. This means that you should submit the property details for the first property from the apposite page in Vik Channel Manager called "Hotel - Details",and wait for Google to approve your information. Once that happens, make sure to complete the setup process as described in this article, and then you can visit again the page "Hotel - Details" where you will find a prompt message asking if you would like to submit the information for a second property.

Once the information for the second property has been submitted, you should wait again for Google to approve the details, and then set up this second account. Only at this point you could proceed with a third account and so on.
Last Update: 2023-02-22 11:23
86% of people found this helpful.