Manage any information on Booking.com through your WordPress or Joomla website
You can manage pretty much anything of your Booking.com Account(s) directly from your Channel Manager.
This is a list of some of the main benefits you get thanks to our Premier partnership with Booking.com.
Upload custom rates
Use your website to manage your Booking.com rates. No more need to log into your Extranet accounts to change a price.
Bulk upload your website rates in mass to Booking.com, or manage different rates with the ease of one click or tap.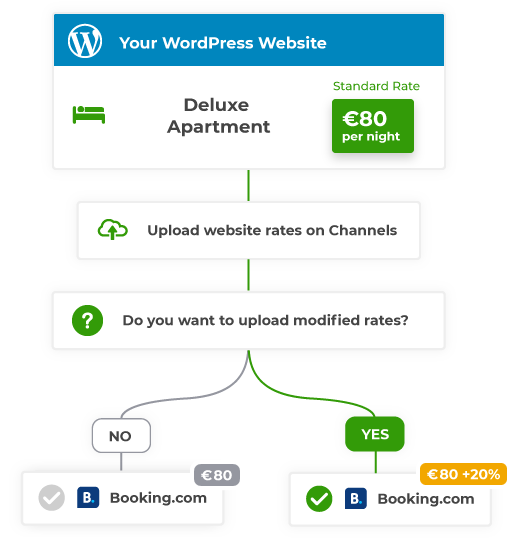 Real-time synchronization
Automated synchronisation of the availability for new bookings, modifications and cancellations.
Real-time sync for Rates, Restrictions and Promotions.
Direct messaging with your guests through an internal Chat
Guests can contact your property for inquiries about reservations. Your Channel Manager will handle the whole conversation.
You can chat also from your smartphone by using the Mobile App channel of e4jConnect.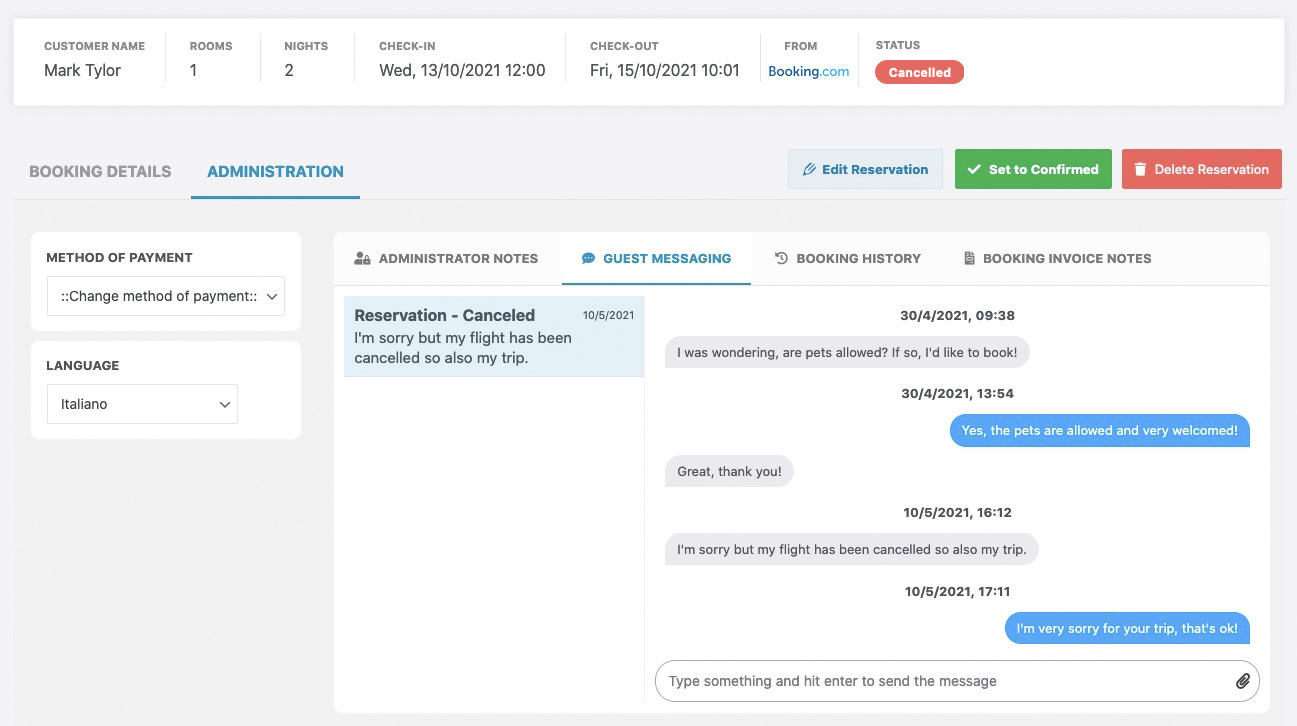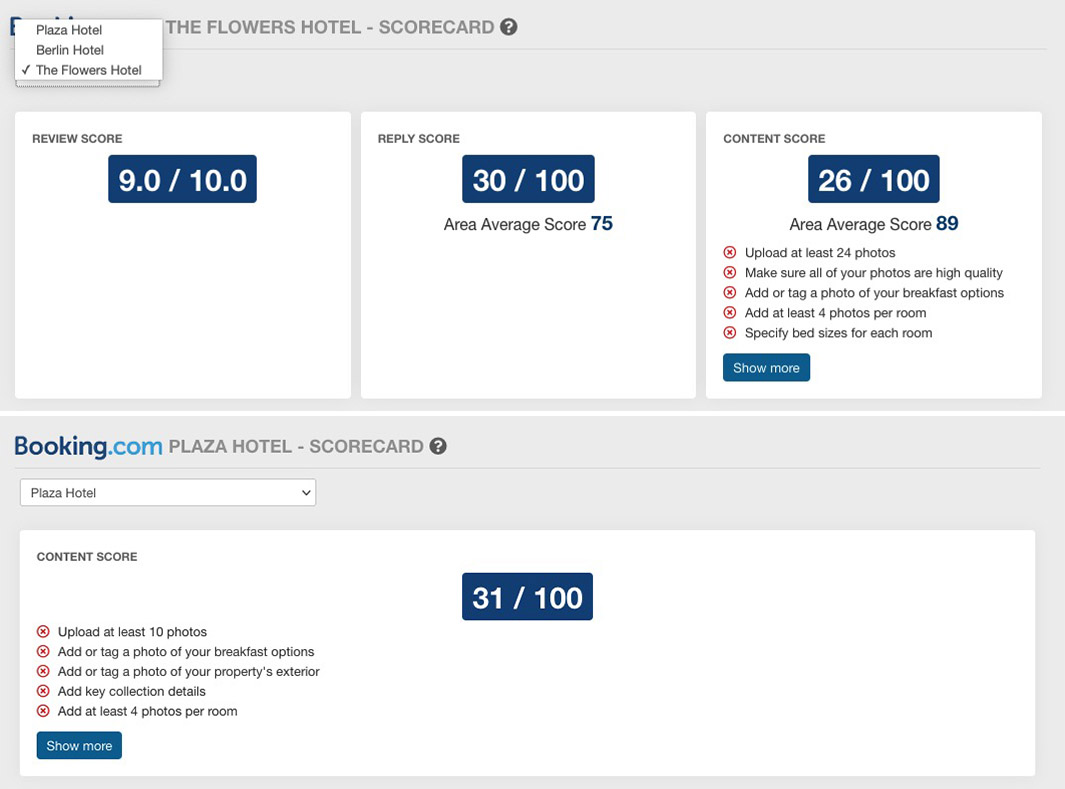 Connect multiple Booking.com accounts
Vik Channel Manager will allow you to connect unlimited Booking.com accounts and map all of their rooms to have full control.
Thanks to the Statistics API, you will also be able to monitor your account score-cards with the ease of a click.
Real-time synchronization
Automated synchronization of the availability for new bookings, modifications and cancellations.
Upload custom rates
Upload different rates from your website onto the channels with one click.
Guests and Credit Card details
Any possible booking information will be imported into your website.
PCI compliant with credit cards.
Manage your promotions
Set-up promotional prices and custom offers for Early Bird/Last Minute bookings or any other deal.
Manage all your contents
Upload photos and manage your Property profile on Booking.com through website.
Reporting tools
Report a guest misconduct, an invalid credit card, a no-show or a change of stay dates to Booking.com
Guest reviews
Manage your property reviews downloaded in real-time and answer directly to your guests.
Check and improve your score
Keep your score-card under control, and check the opportunities to improve your profile ranking.
Guest Messaging
Check the messages sent by your guests through Booking.com, and reply to them directly from your website.
More than 5000 accommodation owners are already saving money from OTA commissions thanks to e4jConnect
What our clients say
No profit sharing, handle everything on customers website end
I choose this software because is the most complete and native channel manager for WordPress. Contrary to others, it synchs all bookings (otas included) on the database of my website. Now I manage everything from my website, without sharing my profits with external portals.
— Chandra, Owner of Central Beach Inn
I've reduce my time of work!
Thanks to the Rooms Categorization and the Channel Manager I've reduce the time of work. The plugin is very intuitive in almost all of it. I love the teamwork!
— Bonito Inn, xSpider Sistemas
Awesome Support!!
Despite this is the best solution for hotels, and saves you much time and money, is the support that makes the difference. The support is really outstanding, keep it up, guys! Many thanks.
What's needed to start using the service?
All you need is the Booking Engine, the Channel Manager, and an active e4jConnect subscription for the desired channels.
Please note that our "Vik" plugins require you to have a working website built with WordPress or Joomla.
Already have our "Vik" plugins?
The only thing left is the subscription for the e4jConnect Channel Manager service. Choose the channels you wish to connect.
And you'll be all set!
Subscribe now
Use the connectivity service you know and trust via E4J
with the Booking.com marketing platform.
Our excellent connectivity and partnership means more visibility, bookings and revenue for your property.
5 great reasons to partner with Booking.com:
Increased revenue

Real-time confirmed bookings means more revenue for you and your property

Round the clock, multilingual support

The Booking.com support team handles any questions or requests your guests might have – so you don't have to.

Free registration

There are absolutely no sign-up fees or subscription costs and the commission-based model means you only pay after a guest has paid you.

A large, global audience

Your property is marketed to a large audience of travellers worldwide, year-round, with an average of over 625,000 room nights sold every 24 hours.

Locally relevant

Booking.com is the top choice amongst travellers worldwide because they display properties in a way that is locally relevant, in up to 41 languages.

Sign up today!

Let Booking.com help connect potential guests to your property
Join Booking.com