Redirect millions of guests to your official hotel website to get potential reservations with no fees or commissions
A huge opportunity for any kind of eligible accommodation with a Google Business Account
using our plugins Vik Booking and Vik Channel Manager on a WordPress or Joomla website.
Google Free Booking Links: how do they work?
Eligible properties working with a certified Google Hotel partner like e4jConnect will be able to transmit to Google the website rates and inventory.
Your official website rates will appear in the Google's search results as well as on the Google Travel platform among the "All pricing options" section.
It's like keeping Google always up to date with your availability and rates. Any visitors on Google will get a chance to see your website offers.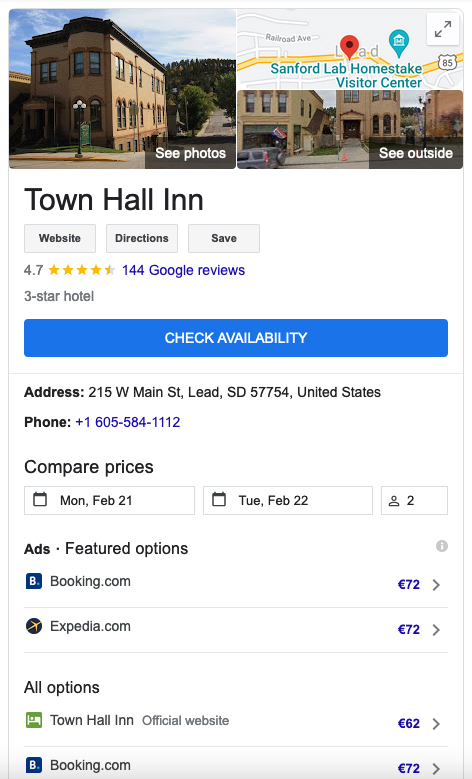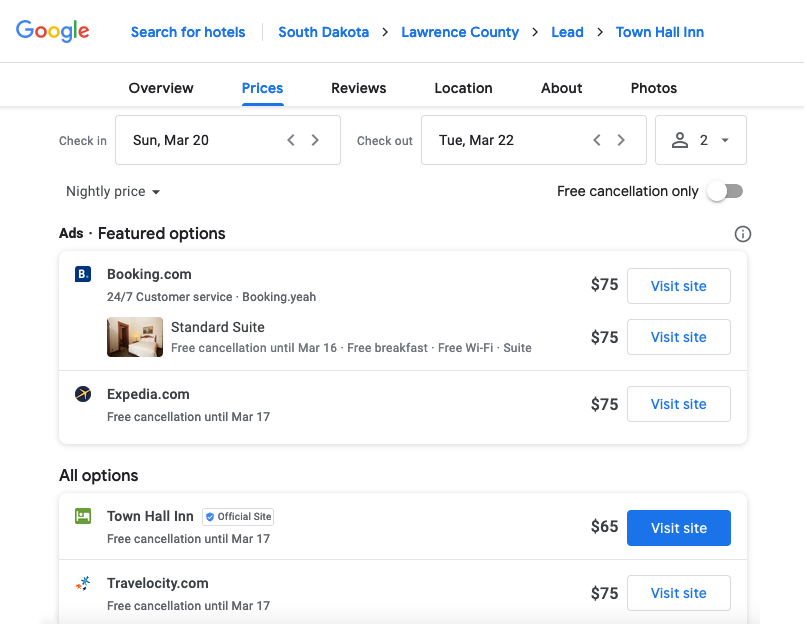 Real-time inventory synchronization
Vik Channel Manager will take care of keeping Google updated with real-time synchronisation for any new bookings, modifications or cancellations.
All your pricing information (rates, restrictions and promotions) will be perfectly aligned and displayed on the Google's search results.
Your free booking links can obviously be converted into paid ads at any time. In this case, your official website rate would be displayed among the "featured options" on top.
Drive more direct bookings thanks to organic traffic
Your website has never been so important. The booking engine Vik Booking will let any Google user complete a reservation directly from your website.
"Free booking links" because being listed on Google is truly free. Moreover, the bookings you get will be completely exempt of any fees or commissions!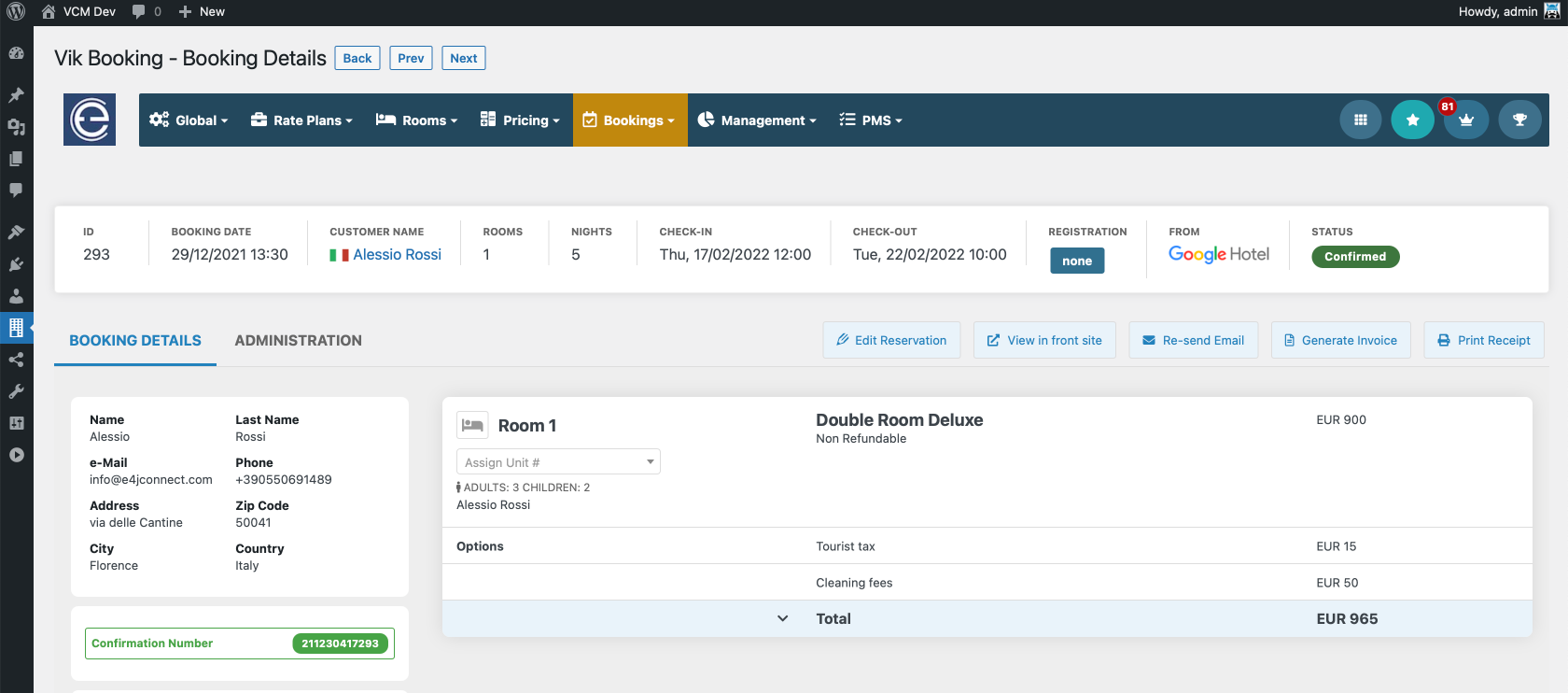 Enhanced statistics tracking
Vik Booking will help you monitor the traffic on your WordPress or Joomla website generated by the Google Hotel Ads Free Booking Links.
An interactive scorecard for the Google Travel APIs
Quickly pause or resume campaigns thanks to the "Live On Google" feature.
Get to see your daily Booking Link Reports with data aggregated by region and device.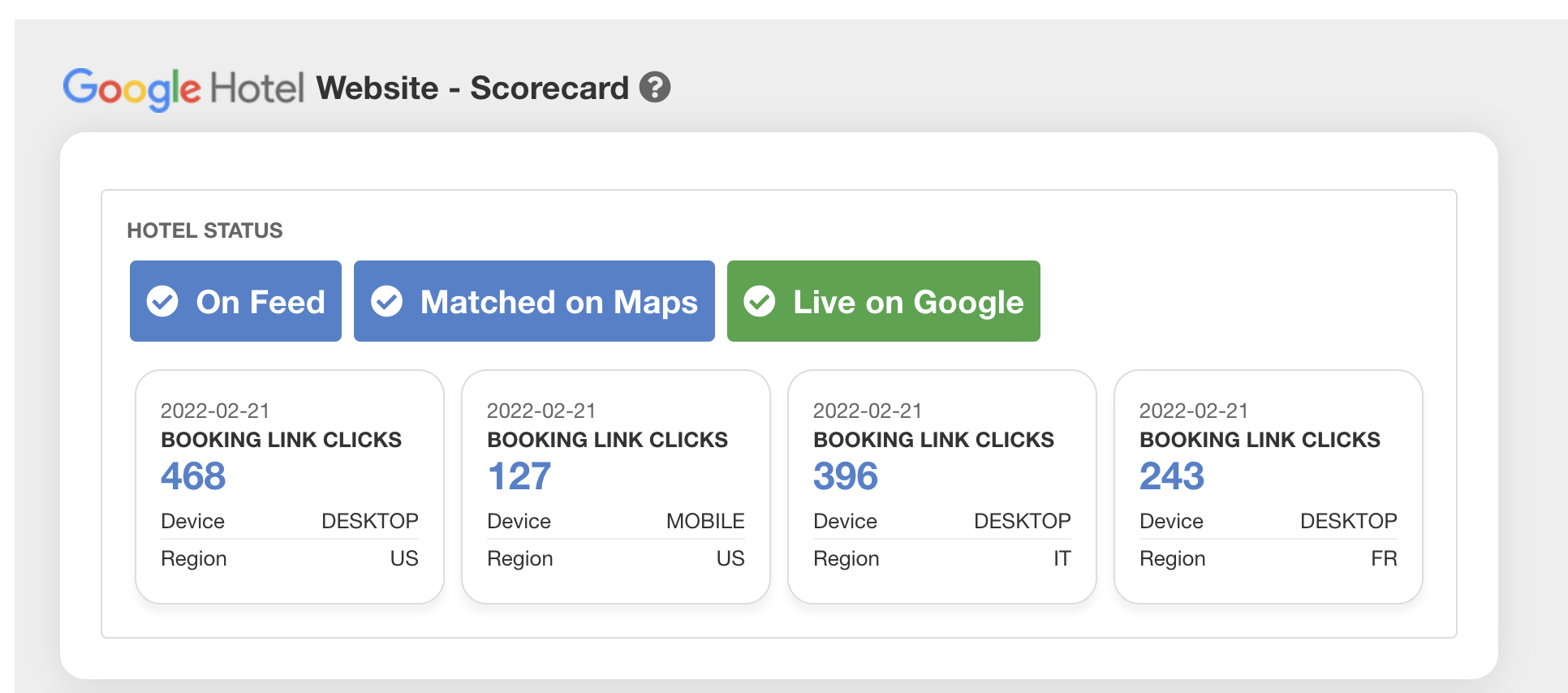 More than 5000 accommodation owners are already saving money from OTA commissions thanks to e4jConnect
What our clients say
No profit sharing, handle everything on customers website end
I choose this software because is the most complete and native channel manager for WordPress. Contrary to others, it synchs all bookings (otas included) on the database of my website. Now I manage everything from my website, without sharing my profits with external portals.
— Chandra, Owner of Central Beach Inn
I've reduce my time of work!
Thanks to the Rooms Categorization and the Channel Manager I've reduce the time of work. The plugin is very intuitive in almost all of it. I love the teamwork!
— Bonito Inn, xSpider Sistemas
Awesome Support!!
Despite this is the best solution for hotels, and saves you much time and money, is the support that makes the difference. The support is really outstanding, keep it up, guys! Many thanks.
Connect with travelers using free booking links on Google
Google is making it free to appear in hotel booking links
Millions of travelers around the world search for hotels on Google every day. Start with free booking links to surface real time room prices and availability to potential travelers at no charge from Google.
Free booking links appear on the hotel booking module alongside hotel ads when travelers look for rooms at a given hotel.
Reach potential customers and drive more direct bookings
With your hotel's free direct booking link displayed to users across hotel search on Google, travelers will be able to book directly with your property. You control the guest experience on your site and collect the guest data.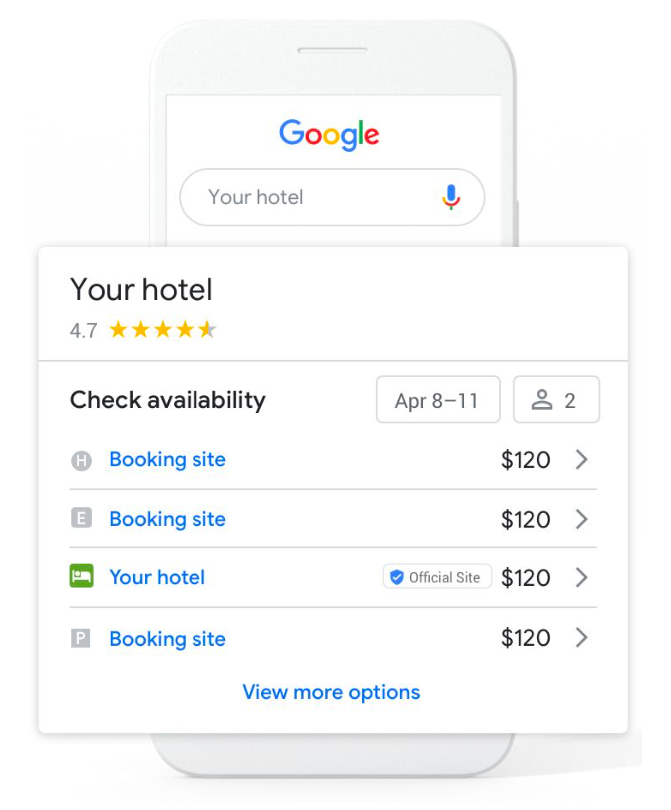 What's needed to start using the service?
All you need is our Booking Engine and the Channel Manager, an eligible Google Business account, and an active e4jConnect subscription for Google Hotel.
Please note that our "Vik" plugins require you to have a working website built with WordPress or Joomla.
Don't have our "Vik" plugins yet?
You can purchase Vik Booking and Vik Channel Manager from our respective marketplaces, depending on the platform used by your website.
Get them for WordPress
Get them for Joomla
Already have our "Vik" plugins?
The only thing left is the subscription for the e4jConnect Channel Manager service. Choose the channels you wish to connect.
And you'll be all set!
Subscribe now
Got a Google Business account? Wondering if your property is eligible?
If you do have a Google Business account already, just look for your property name on Google and if you see the "CHECK AVAILABILITY" button in the search results, it means you are eligible.
Make sure your Google My Business profile is verified and up to date with your hotel information from this link.
Start showing up on hotel search on Google.