Supported Channels
Real-Time Channels
iCal Channels
With the Rooms Mapping function you can synchronize the rooms on the channels with those on your site. This function is required for the channel manager to know to which rooms on the channels do the rooms on your website correspond to. The system will be able to transmit and update the availability for all the connected channels.
When you enable a new channel, you should launch this function to synchronize the rooms. The same function is necessary when the configuration of the rooms changes, both when new rate plans are added, and when your Extranet account (Channel account) has been modified. The system cannot detect any kind of modification made by the channel to the configurations of the rooms or of the rate plans, so it's important to have the rooms always mapped. Synchronizing the rooms will not remove existing data, bookings, rate plans and availability will remain as they are on the channel.
You can use this function from the page 'Hotel - Synchronize Rooms'. Only the channels that support live-update requests can use this function. This means that you active channel on VikChannelManager must support these requests.
The screenshot shows how the rooms on your site can be mapped to the rooms on your channel. It's important to not create multiple relations for the same room. The website must have the same configuration for the rooms like the channel and vice versa. Connecting a room to more room will bring serious problems to the automated availability update requests.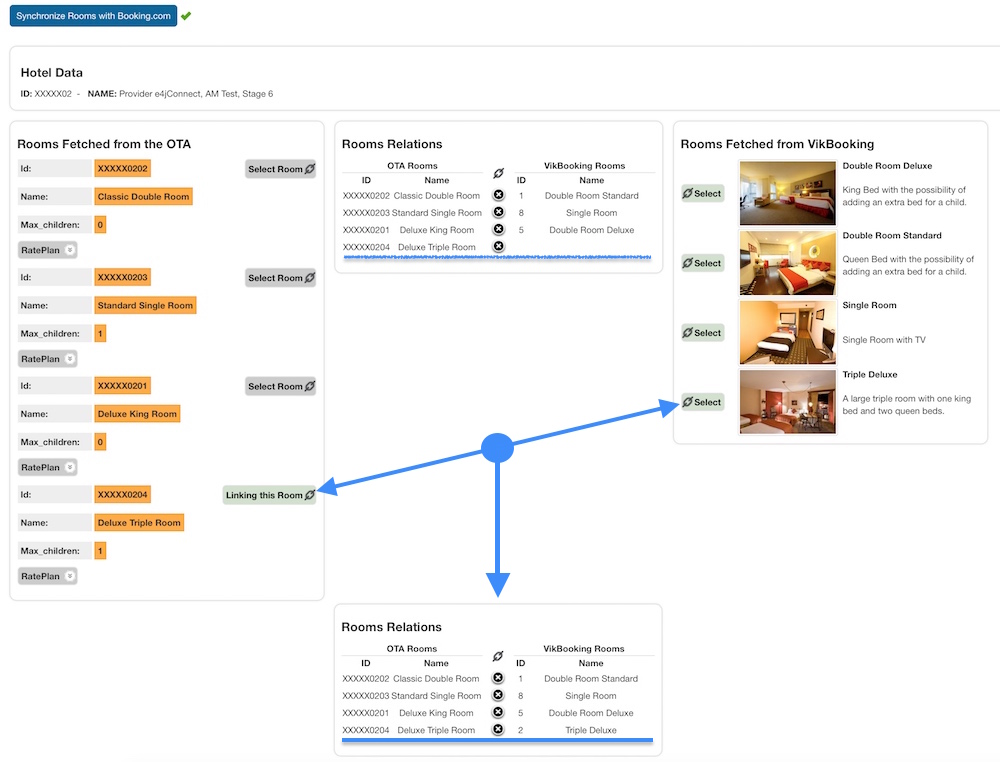 The OTA(Channel) rooms are connected, one to the other, to the corresponding room on your site. It's this way that the system creates relations between the channels and your website. The screenshot above shows how the 'Deluxe Triple Room' from Booking.com is connected to the Triple Deluxe' from your website with VikBooking. The relations between all rooms have been created and the channel manager is ready to work.
Here is a practical video tutorial that shows the mapping procedure with Agoda (the Vik Channel Manager version isn't the latest, but the results are the same).
Rooms Mapping (Synchronize Rooms)
Last Update: 2017-01-05 18:02
100% of people found this helpful.