Google Hotels Ads introduced the Free Booking Links!
Maximize your direct reservations thanks to a full API integration.
A revolutionary service that aims to help properties drive more revenue and reduce OTA commissions.
Property managers working with a certified Channel Manager software can transmit to Google their availability and rates inventory in real-time, by offering the most competitive rates to all guests worldwide through their official website.
E4jConnect is an official partner of Google Travel, and the plugins Vik Booking and Vik Channel Manager are the best expression of this new incredible opportunity made available by Google, which will redirect millions of guests to the official hotel websites to make reservations with no fees or commissions.
This is a huge opportunity for any kind of eligible accommodation with a Google Business Account.
We are excited to be the first and only Channel Manager provider that makes this solution available for WordPress and Joomla websites.
With the Google Hotel integration in Vik Channel Manager, your website with Vik Booking will gain a huge number of new guests and potential reservations at no costs.
Read the Google's official press.
How does this work? What are the requirements?
For those who use already our Booking Engine and Channel Manager, starting to list the inventory on Google will be super easy and super fast.
Instead, those who would like to start will need a working website with WordPress or Joomla, our plugins VikBooking and Vik Channel Manager installed, and an active subscription that includes the channel Google Hotel.
The only real requirement is to have an active Google Business Account for your property. If you do have one already, just look for your property name on Google and if you see the "Check Availability" button in the search results, it means you are eligible.
See the screen shot below for an eligible property.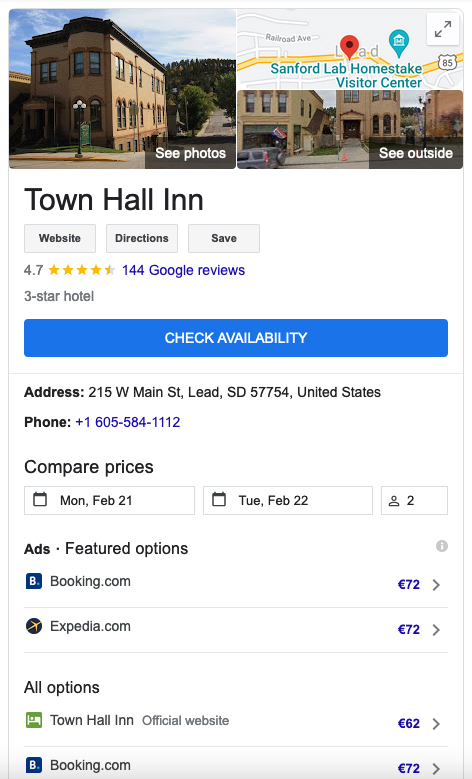 To get started it is sufficient to transmit your Hotel Details from Vik Channel Manager.
Google will import your information and will try to match the details provided on Google Maps. If the information match, you will be able to push in real-time rates and availability from your own website just like how you do with other API-based channels like Booking.com, Airbnb or Expedia. That's all!
Your Free Booking Links will start appearing on Google, and guests will be redirected to your own WordPress or Joomla website to complete the reservation with VikBooking.
Google Travel - A powerful place for guests to find the best hotel rate
The screen shot below shows how the Ads (paid campaigns) are displayed on top, while the section right below called "All Options" is showing the "Official Site" rate as the first option among the free booking links.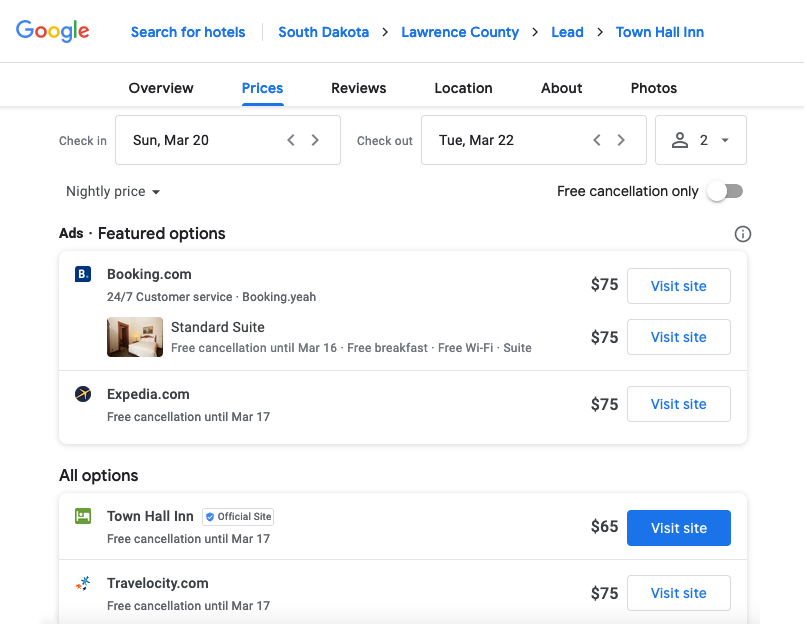 You can obviously convert your Free Booking Links into paid Ads at any time, so that your "Official Site" deal will also be displayed among the Ads.