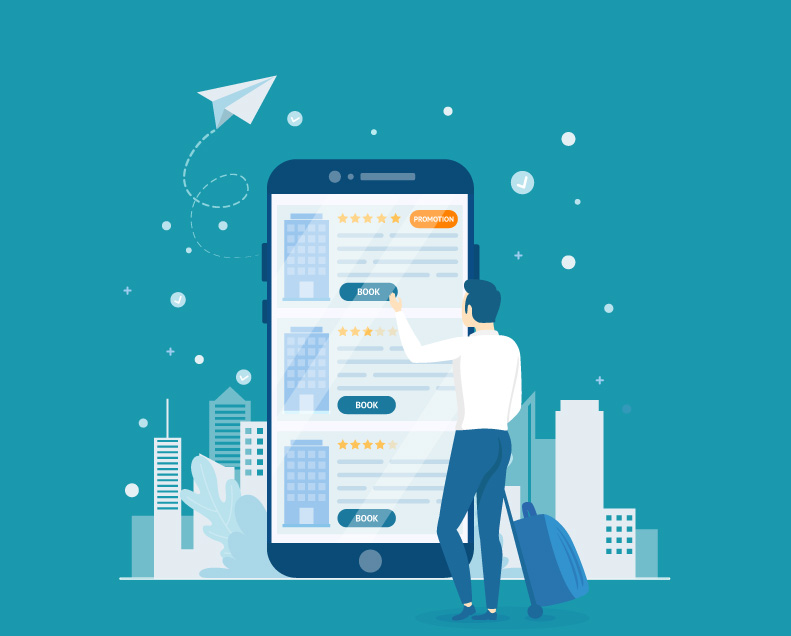 With the Promotions you can create special and temporary offers to your visitors, who are willing to book your property or the holidays in your area.
Beside aiming to get more bookings, to increase the occupancy on some particular dates, or to fill your rooms earlier, you can also expect to boost the "impressions" (visibility) of your property on various distribution channels.
The "impressions on distribution channels" indicate how many times your property is suggested to the guests, how many times your property appears in the search results.
The higher the rank in the search results you have, the greater the number of impressions will be. By getting more "impressions", the chances of getting new bookings are highly increased.
Let's see how you can get "impressions" to gain more visibility.
What's the purpose of creating Promotions?
A Promotion identifies an offer, but there are several types of offers you can make to target a specific goal.
The most common types of Promotion usually relate to the days in advance guests make the reservations.
For example, it is pretty common to set up "early booker" Promotions (also called "early bird") to fill your rooms in advance, by offering a discount to your clients that place bookings a lot of days in advance from their check-in date.
Another common type of promotion related to the timing is the "last minute", where offers are applied on the last few days or hours before the check-in date, for the main purpose of occupying some unsold rooms.
However, there exist many other types of promotions that could be set up in order to get some other benefits.
Seeing a discount or an offer when booking a stay at a Hotel or any other kind of accommodation, often gives the impression to the guests that they are about to make a good deal.
Why creating Promotions is good also for your website?
Guests landing on your property's official website often expect to get a better idea of where they will be staying.
With your own website you have all the power at your hands to show your clients the location, your property, the area around, and of course your best rates.
This obviously gives a rich information, more than what a simple details page on a booking channel would do.
However, you can attract even more guests and drive more direct bookings if certain dates were discounted by a Promotion, because this would definitely give your guests the impression that your website is active and dynamic.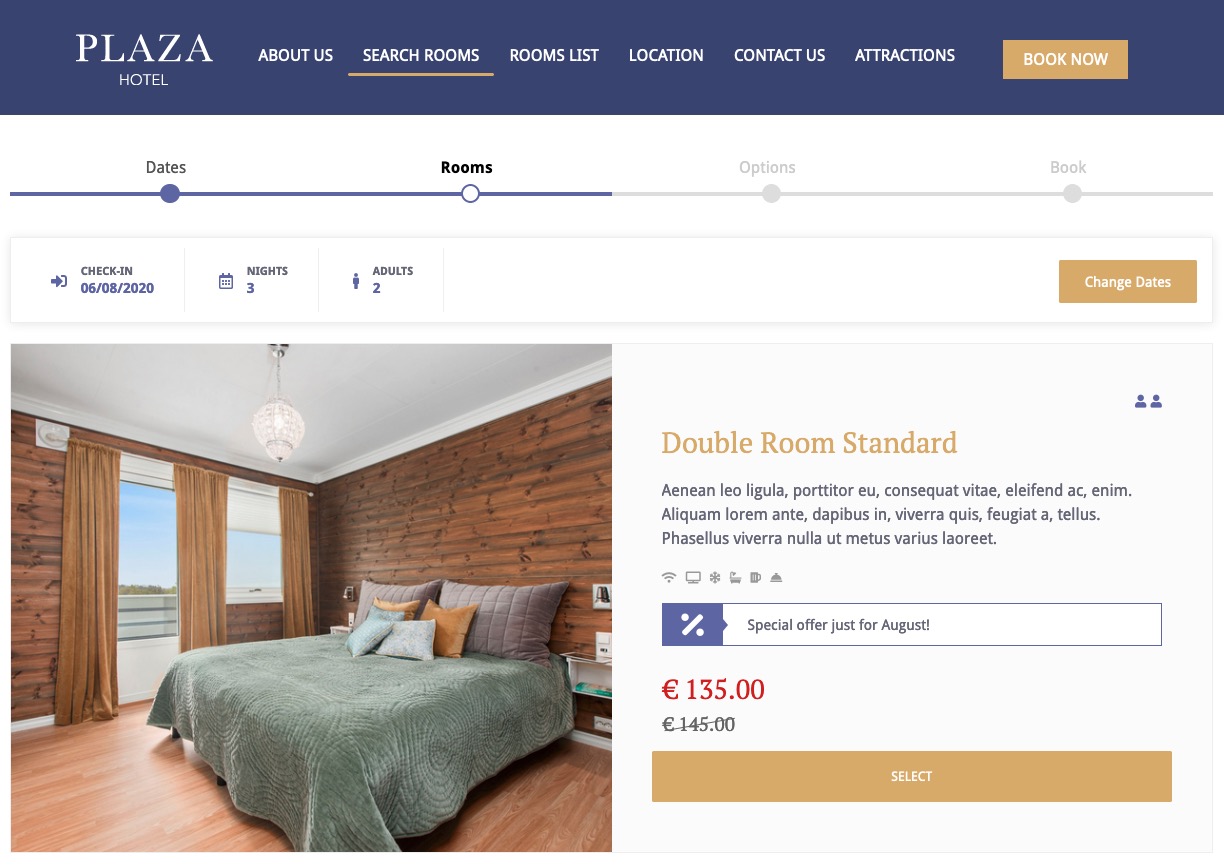 (A website example with a Promotion enabled for August, the promotion was created with the plugin Vik Booking)
Why creating Promotions on some booking channels is an excellent business strategy?
You can always be more attractive to guests when booking a stay at your property is "on sale", but there are a couple of aspects that involve several distribution channels like Booking.com or Expedia that could give a lot more benefits to your business.
By creating a Promotion you offer a discount, and usually, properties with a more competitive price are listed at the top of the search results.
This means that your property will get more impressions than other competitors, meaning that your property will be more visible to guests looking for an accommodation.
Not only this will come handy for the impressions, but also some other pages or newsletter messages handled by the various distribution channels, could "feature" your property by advertising your promotion.
With channels like Booking.com, you can also target some specific type of travelers with your Promotions.
In fact, you can create "Mobile Rates" to offer discounts to users looking to stay at your property through a mobile device, or you can create promotions for Business Travelers to target a specific type of bookers that travel for work.
It is also possible to create Geo Rates, meaning that your Promotions can be restricted to just some countries where your property will be featured to bookers of a specific nationality.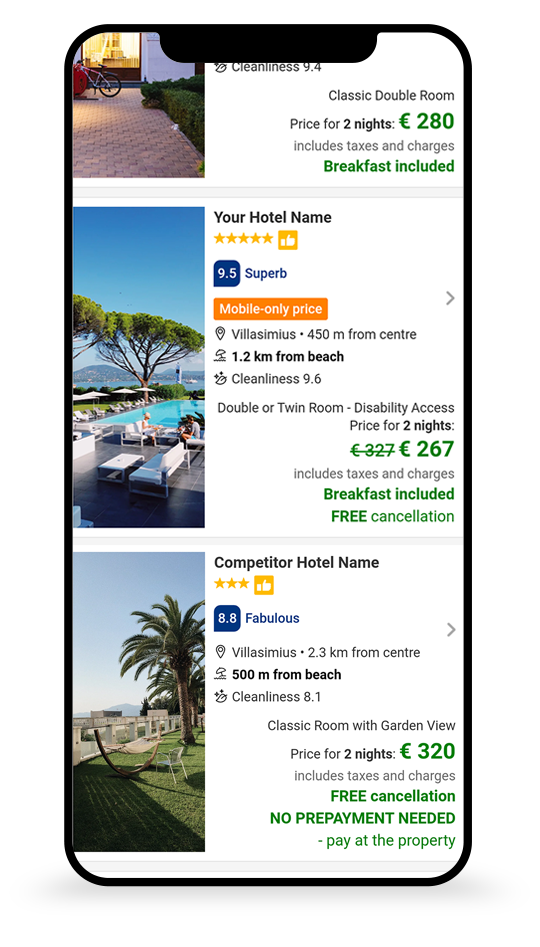 (A "Mobile" Promotion applied to an accommodation property)
On which distribution channels should the Promotions be created, and how?
There is probably no precise answer to what distribution channels you should invest on. It probably depends on your business trends, but for sure focusing on your own website (where direct bookings are always welcome) as well as on one popular booking channel can only lead to good results.
There is no specific rule that imposes to create Promotions across all distribution channels, it is up to you deciding where the Promotions could generate better results.
However, maximizing the base rates for then applying high discounts doesn't really mean beating the competition and becoming the 1st property in all search results.
We actually do not recommend to offer "fake discounts" with very high values, like 70% off, when your base rates were previously increased significantly. This can actually lead to a disadvantage for your property score if the algorithm detects that you always have active promotions with so high discount values.
Whenever you would like to promote a specific range of dates, creating a Promotion is always worth it, on your website as well as on the most important booking channels.
It's like setting up an easy and quick marketing campaign to promote your accommodation.
How Vik Booking and Vik Channel Manager handle Promotions across multiple distribution channels?
Our plugins were designed to help you set up quick yet efficient and targeted Promotions across multiple booking channels, just on your website, or maybe just on a specific distribution channel like Booking.com.
With the ease of a few clicks to select the dates, the rooms, the rate plans and the amount of discount, you will be able to create a Promotion in no time by using the apposite page "Special Prices" in Vik Booking.
Thanks to Vik Channel Manager, one Promotion for your website can be instantly transmitted and activated on channels like Booking.com, so that you will be promoting the same offers on multiple distribution channels, by multiplying the chances of getting new bookings.
With no efforts at all, and without ever leaving your own website, you will be able to manage as many Promotions as you want.
The Channel Manager will also provide an interface dedicated to just the Promotions you have on Booking.com, so that you will save time by logging into your Booking.com account to modify, create or delete the Promotions.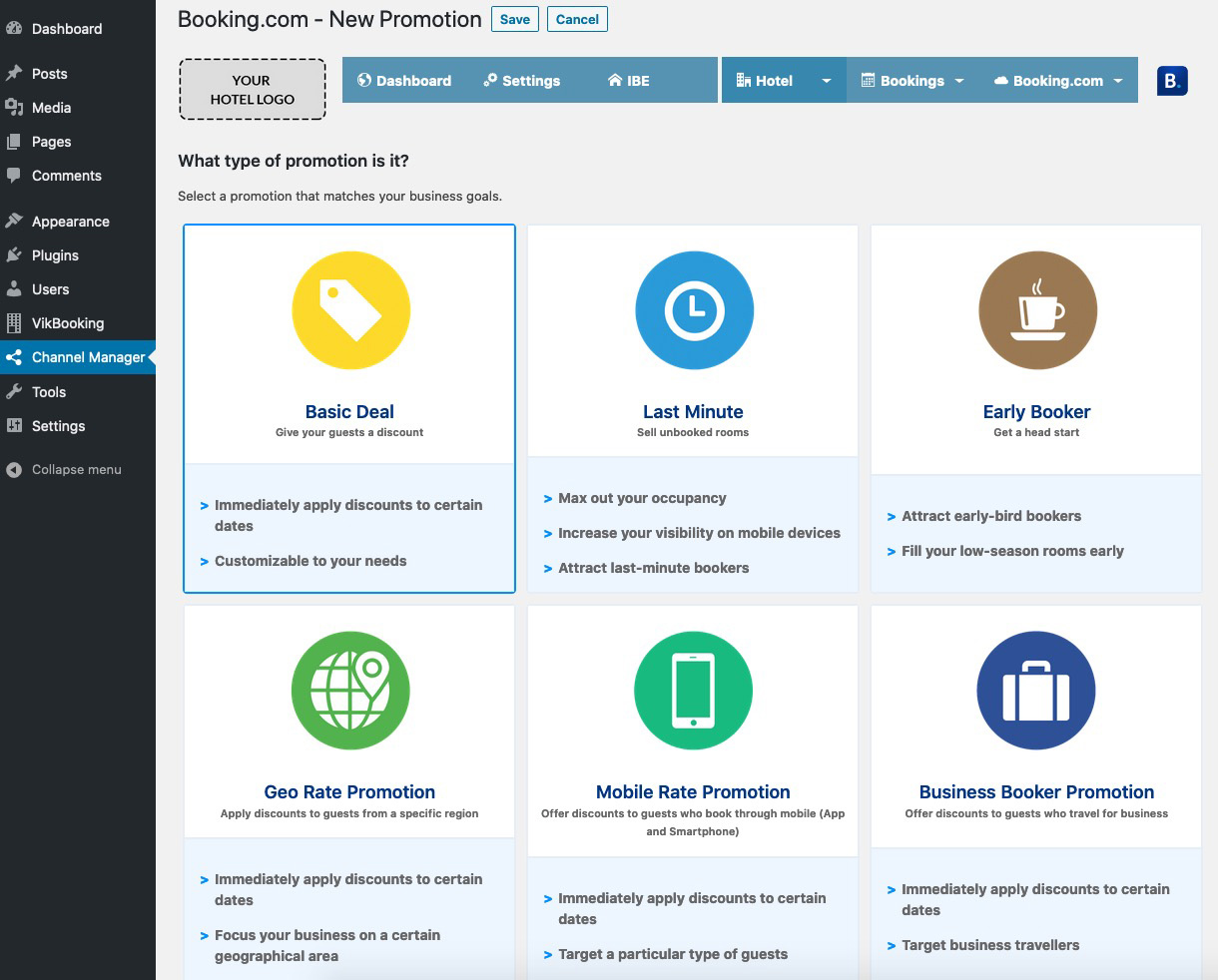 (Some types of Promotions available for Booking.com in the plugin Vik Channel Manager installed on a WordPress website)

Various pages in Vik Booking will also help you monitor your Occupancy Forecast, and the insights will suggest you to create various types of Promotions, to fill your rooms earlier or to offer last-minute discounts.