If you run an accommodation business and are wondering how to reach a larger number of guests, then you may find interesting the Free Booking Links service of Google Hotel.
The "Free Booking Links", like the name suggests, is a free service for property managers, which is available to any accommodation with a Google Business account.
Thanks to this service, you will be able to show to any potential guest your real-time website rates. This is valid for the results displayed on Google Search, as well as for their recent Google Travel platform. Guests will be able to select their stay dates, and the cost for booking your property directly through your website will be displayed on Google with an apposite link (the "Booking Link").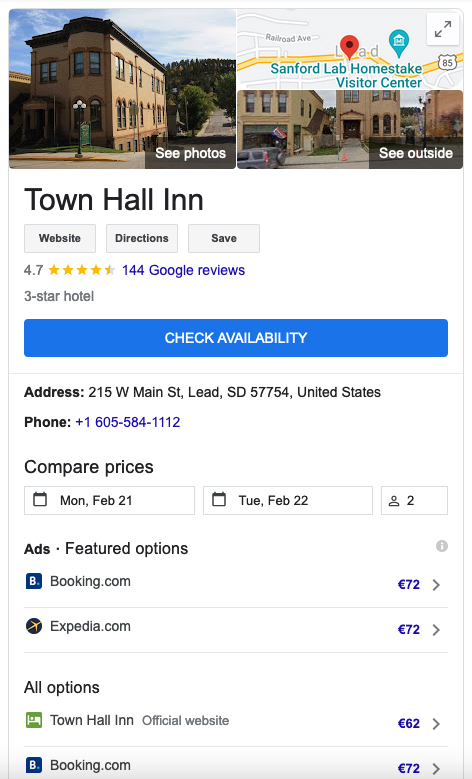 If you are not sure whether your Google Business account meets all the necessary requirements to start using their Free Booking Links, you can find more information here.
How to benefit from your presence on Google?
It is not a secret that the best scenario would be to receive as many direct bookings from your website as possible, to reduce the amount of commissions for the OTA reservations.
However, the best scenario is definitely not the easiest to be achieved. But what if we told you that your ranking on Google could turn the cards on the table?
Having a Google profile can help your property attract more guests on your website.
Nowadays, many travelers rely on the web to find an accommodation, and Google, with its over 3.5 billions of searches per day, is definitely the search engine where you want to be found.
You will reduce common obstacles that may interfere between you and your guests, such as language or technical barriers. Your Property will definitely make it up to the hospitality world expectations.
On top of that, showing to users directly on Google Search and Google Travel the same rates as on your website will help you attract more potential guests and drive more direct bookings with no commissions.
That would be great, but how do I do that?
Through a simple integration between your Google Hotel account and our Vik Channel Manager. You can transmit in real-time the availability and rates inventory for your rooms to Google, by taking the information defined in your Booking Engine/PMS (Vik Booking).
These are some of the benefits you can get by choosing our integration for Google Hotel:
Have on Google Search and Google Travel your website direct rates displayed under your Google profile. Do not leave just the rates of the OTAs displayed under your property name.
Show the best rates for your rooms. Your website rates will be always more competitive than the rates on the OTAs, not only because of commissions.
Maximize the chances of getting direct bookings by attracting more visitors on your website. The more clients will visit your website, the higher will be your ranking on Google.
Save on OTAs commissions. One of the best aspects of the Google Free Booking links is that you will be able to redirect visitors to your own Property website. No commissions will be applied for reservations made from guests that landed onto your website through Google, as they will be handled by your own booking engine Vik Booking.
A trustworthy connection, offered by the same company that provides both the Channel Manager and the Booking Engine software. Our Channel Manager "e4jConnect" is an award-winning service, listed as a certified partner of the major OTAs and an official partner of Google Hotel.
Vik Booking and Vik Channel Manager together with the Google "Free Booking Links" are the perfect solution for anyone who wants to drive more bookings, reach more guests and increase the revenue. An all-in-one solution installed on your own website to centralize all services.
The only thing you should focus on is setting up your website at its best with competitive rates, by making the booking experience intuitive and smooth, thanks to our booking engine plugin Vik Booking.
Want to start now? This is all you need to start using the Google Hotel services:
Subscribe to the e4jConnect service to activate the Google Hotel channel.
Set up your property information for Google from Vik Channel Manager.
Enjoy a real-time full API synchronization service, and start expanding your limits.